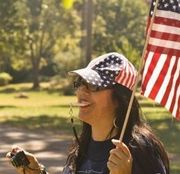 Serving our country in diverse ways including politically is a call to serve the people of the world. For many years we've been involved within communities and grassroot organizations.
We've volunteered and worked on campaigns, and as a staff member. Working with Texans for Abbott Campaign in 2017, volunteered for Donald J Trump and Mitt Romney's Presidential campaigns in 2013-2016, 2011-2012 and 2008; for Scott Eckersley for Congress in 2010. Other candidates she volunteered for and was a Campaign manager for Christian County Associate Circuit Judge - Larry Luna's campaign in 2006 and several other local and state campaigns in 2004.

Getting the votes and response you want takes organizational and recruiting skills to have a successful campaign. It's important to reach the grassroots, including the Hispanic population which can give a campaign between a 5% - 15% voting edge. Reaching the grassroot population requires a strong organizer and coordinator to accomplish this task. We've traveled extensively locally, state, regional and nationally.